Top-A-Court Tennis Company
Top-A-Court Tennis Company is a leader in the construction and resurfacing of tennis courts in the Eastern Pennsylvania and tri-states area (E PA, DE, S NJ). Our knowledge, training and experience have been developed over decades, since we built our first courts in 1988. Top-A-Court Tennis has proven expertise, providing our clients innovative, state of the industry solutions for construction, reconstruction, resurfacing, lighting, fencing, and your sports equipment needs.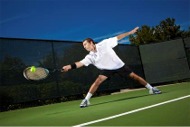 We have constructed and resurfaced courts for a wide range of tennis facilities, universities, municipalities, schools, tennis clubs, country clubs, private residences, and home owner associations. As a member of the American Sports Builders Association, we are committed to upholding the highest standards of sports construction. Top-A-Court's owner is one of few people to earn a certification in court construction by the American Sports Builders Association. Our objective is always to conduct business with integrity, using quality products, providing a satisfactory experience for our customers - superior product, service, and value.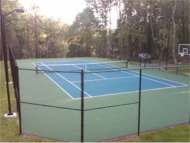 Top-A-Court Tennis Company is one of few tennis court builders in the country that own a dedicated fleet of equipment specially adapted to meet the exacting specifications required for court building. We provide all phases of construction to deliver a long lasting, high quality tennis court for your playing enjoyment. We utilize state-of-the-art methods including laser controlled grading and paving machines. We "turn-key" your project from start to finish reducing costs and delays.

We are anxious to earn your business and perform to your schedule. We would appreciate the opportunity to serve you and invite you to join our extensive family of satisfied customers. Contact us at (215) 393-8009 or by email at sales@topacourt.com to discuss how we can best service your needs.


---
Top-A-Court Tennis Company
1274 Georgia Lane
Hatfield PA 19440
(215) 393-8009 (phone)
(215) 393-8007 (fax)
Click here
to send us an email!
Copyright © 2012 Top-A-Court Tennis - All rights reserved - Site by Detweiler Consulting LLC





for:
New Construction
Resurfacing
Maintenance
Lighting
Fencing
Court Supplies
---


Tennis Courts
Basketball Courts
Bocce Courts
Multi-Use Courts
---


Asphalt Courts
Fast-Dry Courts
Synthetic Turf
---