Resurfacing



Top-A-Court crews have resurfaced or surfaced thousands of tennis courts since 1988. We use only the finest materials available. We also offer a variety of cushioned court alternatives which are more resilient and result in less stress on the body than traditional hard courts. Our cushioned alternative finishes are the same type of surface used at the major international hard-court tournaments throughout the world.

Specific recommendations will be made for each court based upon an onsite visit, evaluation and consultation by one of our court resurfacing professionals. Most manufacturers recommend color coating hard court(s) every 5 to 7 years. Based on your court condition and the scale of the courts reconditioning requirements, one of the following recommendations will be made.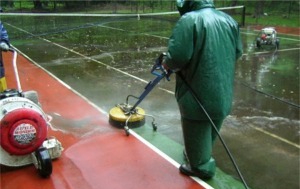 Color Coating



At Top-A-Court we take pride in providing significant improvement every time we resurface a court. We separate ourselves from the competition by concentrating our time on the cleaning and preparation of the entire surface. Most courts require some repairs prior to color coating. We raise low areas, taper down high areas, and repair all cracks and imperfections. We then apply color coating and line striping using only the best finish products available. With the combination of quality materials and the finest workmanship, your court surface will look and perform great for many years. There are a multitude of surface color choices, please consult the professionals at Top-A-Court for some great ideas.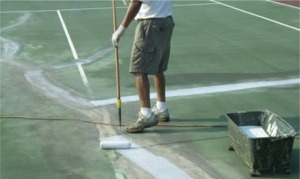 Crack Repair and Color Coating



If your court has less than 300 linear feet of structural cracking, we will use a special system designed and proven to be an excellent repair for concealing and keeping court surface cracks from appearing again (www.armorcrackrepair.com). On average, asphalt tennis courts can be expected to last approximately 20-25 years. However, as courts get older, cracks tend to worsen exponentially and resurfacing becomes more frequent. If this sounds familiar, you should probably be considering a reconstructed court.




Stone Dust Sleep Sheet Method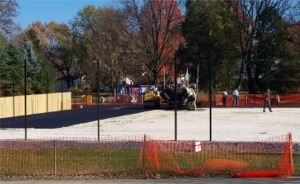 When asphalt courts have serious structural cracks, aging asphalt, and other imperfections, the court is beyond the scope and ability of the two previous options to properly restore the surface. In these cases, we recommend installing a layer of stone dust (screening) over the entire surface, followed by an asphalt overlay. Since the new surface "floats" over the existing court, this method prevents cracks from reflecting through the new surface from the existing court surface. Screenings are laser graded, then the base asphalt and top asphalt coatings are applied using our laser guided paver. Once completed and cured, new color coating and finishing can be applied to the new surface.




Reconstruction


When there are serious sub-base failures the existing court surface must be removed. Indications of a failed sub-base include large depressed areas, wide cracks indicating the top surface is shifting and deep cracks that penetrate both the top asphalt and sub asphalt courses. The reconstruction process requires removal of all asphalt. Additional foundation materials can then be added and laser leveled before two new courses of laser graded asphalt can be installed. Once completed and after the new asphalt has cured, new color coating and finishing can be applied.







---
Top-A-Court Tennis Company
1274 Georgia Lane
Hatfield PA 19440
(215) 393-8009 (phone)
(215) 393-8007 (fax)
Click here
to send us an email!
Copyright © 2012 Top-A-Court Tennis - All rights reserved - Site by Detweiler Consulting LLC