Products
Top-A-Court provides your source for professional sports products - products selected by industry professionals that offer quality and value. And we can supply qualified professional installation and setup of your purchases, plus court surface construction, maintenance, and repair.
A few of the many types of sports equipment products available from Top-A-Court are listed below. If you don't see what you're looking for, please inquire by calling 215-896-1681 or by email at sales@topacourt.com. You can expect a prompt response. They include:
Tennis Nets
Tennis Net Posts
Windscreens & Privacy Screens
Ball Machines, Ball Retrievers and Teaching Aids
Tennis Court Fencing
Tennis Court Lighting
Seating, Benches & Bleachers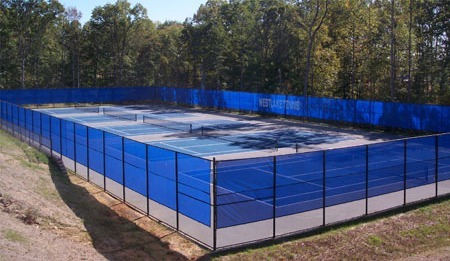 ---
Top-A-Court Tennis Company
1274 Georgia Lane
Hatfield PA 19440
(215) 393-8009 (phone)
(215) 393-8007 (fax)
Click here
to send us an email!
Copyright © 2012 Top-A-Court Tennis - All rights reserved - Site by Detweiler Consulting LLC





for:
New Construction
Resurfacing
Maintenance
Lighting
Fencing
Court Supplies
---


Tennis Courts
Basketball Courts
Bocce Courts
Multi-Use Courts
---


Asphalt Courts
Fast-Dry Courts
Synthetic Turf
---